Overview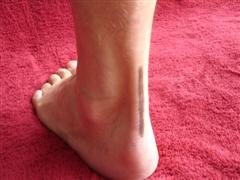 Achilles tendinitis is one of the more common causes of heel pain and many people describe it as pain in the back of the heel. Since this condition is a form of tendinitis, patients mostly notice that the back of their heel is inflamed. The Achilles tendon is the largest tendon in your body. It is also one of the most important and most used parts of the body. It is essential for walking, running, jumping or even just an extension of the foot. It is for this reason that Achilles tendinitis can affect anyone who is constantly putting stress on his or her foot. Athletes are particularly at risk.
Causes
A lot of stress on the feet is the cause of Achilles tendinitis. It is a common athletic injury. Things that can cause tendinitis include, pushing your body too fast and too soon, sudden increase in activity, sports that cause you to quickly start and stop, poor fitting shoes, bad footwear, severe injury to the Achilles tendon, running or exercising on uneven ground, running uphill, tight calf muscles, bone spur (extra bone growth in heel that rubs the tendon and causes pain), flat arches, feet that roll in (overpronation), and weak calf muscles, not warming up before exercising.
Symptoms
Morning pain is a hallmark symptom because the achilles tendon must tolerate full range of movement including stretch immediately on rising in the morning. Symptoms are typically localized to the tendon and immediate surrounding area. Swelling and pain at the attachment are less common. The tendon can appear to have subtle changes in outline, becoming thicker in the A-P and M-L planes. With people who have a tendinopathy of the achilles tendon that has a sensitive zone, combined with intratendinous swelling, that moves along with the tendon and of which sensitivity increases or decreases when the tendon is put under pressure, there will be a high predictive value that in this situation there is a case of tendinosis.
Diagnosis
If you think you have Achilles tendinitis, make an appointment to see your doctor. The doctor will ask you questions about your recent activity and look for signs. The foot not flexing when the calf muscle is pressed ( if Achilles ruptures or tears in half). Swelling on the back of the foot. Pain in the back of the foot. Limited range of motion in ankle. An X-ray or MRI scan can check for tendinitis.
Nonsurgical Treatment
Conservative management of Achilles tendinosis and paratenonitis includes the following. Physical therapy. Eccentric exercises are the cornerstone of strengthening treatment, with most patients achieving 60-90% pain relief. Orthotic therapy in Achilles tendinosis consists of the use of heel lifts. Nonsteroidal anti-inflammatory drugs (NSAIDs): Tendinosis tends to be less responsive than paratenonitis to NSAIDs. Steroid injections. Although these provide short-term relief of painful symptoms, there is concern that they can weaken the tendon, leading to rupture. Vessel sclerosis. Platelet-rich plasma injections. Nitric oxide. Shock-wave therapy. Surgery may also be used in the treatment of Achilles tendinosis and paratenonitis. In paratenonitis, fibrotic adhesions and nodules are excised, freeing up the tendon. Longitudinal tenotomies may be performed to decompress the tendon. Satisfactory results have been obtained in 75-100% of cases. In tendinosis, in addition to the above procedures, the degenerated portions of the tendon and any osteophytes are excised. Haglund?s deformity, if present, is removed. If the remaining tendon is too thin and weak, the plantaris or flexor hallucis longus tendon can be weaved through the Achilles tendon to provide more strength. The outcome is generally less favorable than it is in paratenonitis surgery.
Surgical Treatment
Many people don't realize that Achilles tendon surgery can be very traumatic to your body. The type of trauma you experience after surgery can be compared to what you go through when you first injured your Achilles tendon. During the first 24 to 72 hours after the surgery your ankle will be tender, swollen and very painful. Your leg will be weak and unstable making it impossible for you to put weight on your leg without some kind of help. This is why your doctor or surgeon will have you outfitted for a cast, ankle brace and/or crutches before the procedure. When you are relying on a cast/brace and crutches your Achilles tendon is less likely to be as active as it once was. This is usually why atrophy (loss) of your lower leg muscles (specifically your calf muscle) happens. In general, more than 80%* of people who undergo surgery for an injured Achilles Tendon are able to return to their active lifestyle. In order to avoid re-injury, it is important to commit to a regular conservative therapy routine.
Prevention
Your podiatrist will work with you to decrease your chances of re-developing tendinitis. He or she may create custom orthotics to help control the motion of your feet. He or she may also recommend certain stretches or exercises to increase the tendon's elasticity and strengthen the muscles attached to the tendon. Gradually increasing your activity level with an appropriate training schedule-building up to a 5K run, for instance, instead of simply tackling the whole course the first day-can also help prevent tendinitis.